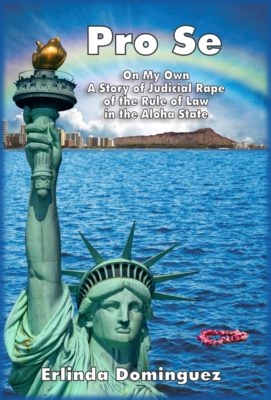 "I think that the appeal judges discussed, decided, and then instructed their clerks to draft their decision. The clerks exaggerated with too many distortions, additions, subtractions of the facts and the laws. It would have been better for them if they were simpler."
~~~~~~~~~
Judge Alexa Fujise of the Hawaii Court of Appeals, who signed the Pohl appeal decision, was the wife of Francis Yamashita with whom she had previously shared a small law office... In the words of Harvey, "He just does not like you, Erlinda. He said so in no uncertain terms.
~~~~~~~~~
I had come to believe that in that aloha state, a judge could preside in a case through arbitrary choice discussed behind closed doors. No guidelines. No screening. No accountability. And the community would remain ignorant and complacent.
~~~~~~~~~
I contacted Professor Jon Van Dyke of the University of Hawaii who taught the Constitution.
He didn't know me but he was familiar with my case. Roy Chang had been consulting with him.
~~~~~~~~~
Friends insisted, "Do something. Will you just forgive what your lawyers Roy Chang and Harvey did to you? They can walk away with their fatal mistakes and ultimate betrayal like a glorified vicious murder?"
~~~~~~~~~
Attorneys William McCorriston and Kenneth Mansfield were already in the courtroom.